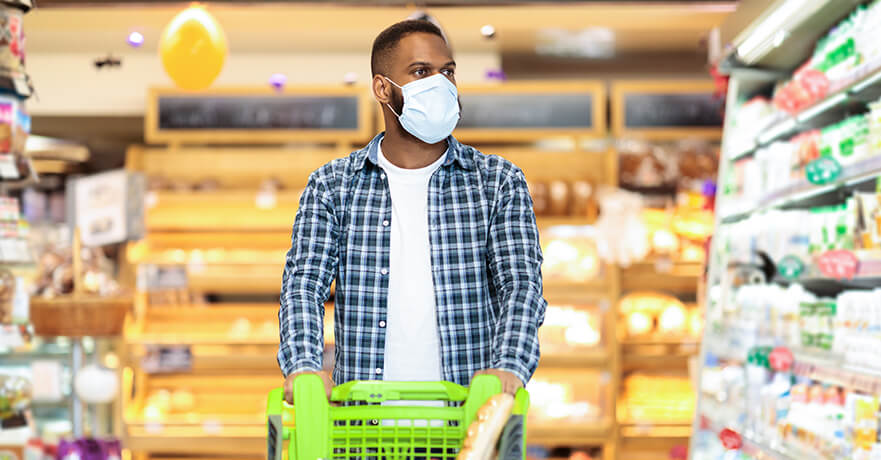 The COVID effect on the food business and restaurant industry isn't over yet.
The past year has been one of significant change for consumer packaged good brands, restaurants, and the food business. While the total consumer packaged goods industry grew about 10.4% in 20201 not every food business saw positive effects of consumers eating more meals in the home. A recent report from Food Dive shows that publicly traded food companies in the U.S. showed sales growth in a single quarter up as much as 38% over the same quarter in 2019 as consumers adjusted to the new normal. Packaged food brands contributed to the 10.4% growth, outpacing the prior three-year annual growth rate of 1.8%. E-commerce, in areas like grocery, really struggled before the pandemic, and made huge gains during the early months as consumers looked for safe ways to shop. Flexibility and quick e-commerce adaptation was the key for retailer success. Even center store products, like shelf-stable canned goods, flipped years of decline when consumers looked for the safety of a stockpile of food that would last awhile and taste good.
Who didn't fare so well?
Unfortunately, not everyone was a winner with companies like Coca-Cola showing a 28% decline from 2019 sales. This drop was largely from concentrate sales, which generally is for businesses that serve its beverages in soda fountains. This highlights the key area where the industry saw the biggest hit, restaurants and foodservice. Take out and delivery soared to new heights, but it didn't make up for the dine-in traffic loss that restaurants saw throughout 2020.
Expect more change
As vaccinations surge across the US and covid cases begin to drop, the industry as a whole is due for more change. Some people are eager to get out of their homes, others more cautious. After a year of unknowns, consumers can again expect to flock to brands and businesses that provide a sense of safety, and this will play out across the board. Analysts like McKinsey expect the pandemic to have a major impact on food packaging design. Consumers now have a changed mindset and expectations for how a food business should consider packaging design with sustainability, hygiene and even direct-to-consumer needs in mind.
To read more check out Food Dive's "Deep Dive" Series into the effect of COVID on the industry as a whole.

1Boston Consulting Group (BCG) and Information Resources Inc.'s (IRI) annual CPG Growth Leaders List.